This is one of those stories where folklore and history intersect, and more compelling for the union.
Some of you may know this haunting song by Alison Krauss:
Some of you may even know it's based on a true story.
On the morning of April 24, 1856, in the remote and dense forest of Spruce Hollow, Pennsylvania in the Blue Knob region of the Alleghenies near Pavia, Samuel Cox went out hunting for dinner while his wife was distracted with chores. When he returned to the log cabin he'd built for his wife Susannah and their two sons, Joseph, aged 5, and George, aged 6, his frantic wife told him that when she'd looked up from her work the boys had disappeared. She'd been calling their names and searching the area but they never responded to her calls, and she could find no trace of them.
Samuel began a desperate search, but had no better luck. Neighbors were implored for help and within hours nearly two hundred people had joined the search. They scoured the area for days, the numbers of searchers growing to almost one thousand persons. Some came as far as fifty miles to aid the Cox family at a time when traveling through that rugged country was very difficult. A dowser and a local witch were even brought into to help. Nothing—no one could find any trace.
Inevitably, with so many searchers coming up empty, rumors and gossip began to fly. Eventually, even the parents were suspected of murdering their own children, some people going so far as to tear up the floorboards of the cabin and digging up the land around it to search for bodies.
At the height of this rumor-frenzy, a man named Jacob Dibert, living some twelve miles from Spruce Hollow, had a nightmare. In this dream, Jacob saw the search parties looking for the Cox children and saw himself amongst them—though in reality he hadn't joined them. In the dream, he became separated from the rest and didn't recognize the part of the forest he moved through, but then he came to a fallen tree and saw a dead deer. Just beyond the deer, he spied a small boy's shoe, and just beyond that a beech tree lying across a stream. Crossing the stream, he ascended a steep and stony ridge, then down into a ravine. By the roots of a large birch tree with a shattered top, he found the missing boys lying in each others' arms, dead from exposure.
Shaken by this dream, Jacob at first told only his wife, but it returned to him the next night, and the night after that, so he finally told his brother-in-law, Harrison Whysong, who lived in Pavia. Whysong was skeptical, but he knew the area and knew a ridge that matched Jacob's description. Jacob was so shaken up that Whysong decided to ease his mind by taking him there. On May 8, they began their search. They found the fallen tree, they found the dead deer, they found the small shoe. They ran for the stony ridge and down into the ravine, towards the roots of that birch tree with the shattered top. They found the two small boys, lying in each others' arms, dead from exposure.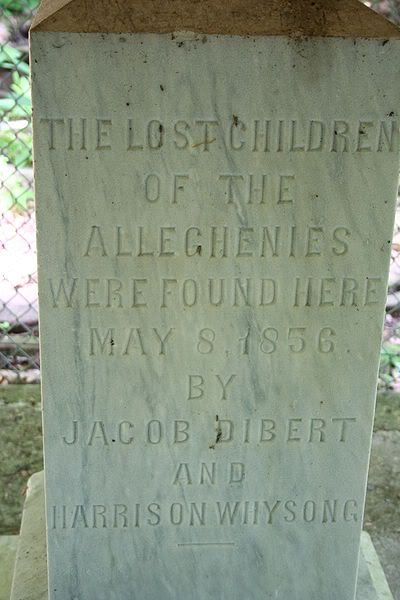 The boys were buried in Mt. Union Cemetery. In 1906 on the fiftieth anniversary of the tragedy, the people of Pavia erected a monument. In 2002, it was vandalized, but the good folks from Culp Monumental Works of Schellsburg restored it. C. B. Culp, who founded the company, made the original chiseled marble stone. You can still visit the monument. It's quite a hike, I understand, and there's even a geocache there for people who are interested in geocaches. It is rumored to be a place of strange lights and odd occurrences, even to this day.
Sources for this story:
The Lost Children of the Alleghenies
Anomalies: The Pavia Monument
Lost Children of the Alleghenies
*Another irregular series that I will probably keep up with irregularly.
Mirrored from Better Than Dead.